Electromagnetic holder S59
Electromagnetic fire door holder IP67
MODEL S59 is particularly suitable in environments where it's required the higher protection against corrosion and for this reason it's often used on ships in their outer parts. The construction is made on S5 frame and it's interchangeable with it in terms of fixing.
All the electrical parts and, as much as possible, the metallic ones, are embedded in resin in order to grant maximum protection (IP67 for this model). It's available with fixed keeper plate (S00160 or S02160) and without release button. Available holding force of 1500 Newtons. The electrical connection can be made through the connector provided of strain relief and protection circuit. The operating voltage is 24Vdc.
VARIANTS AND AVAILABLE ACCESSORIES:
- different supply voltage
- supply voltage A.C.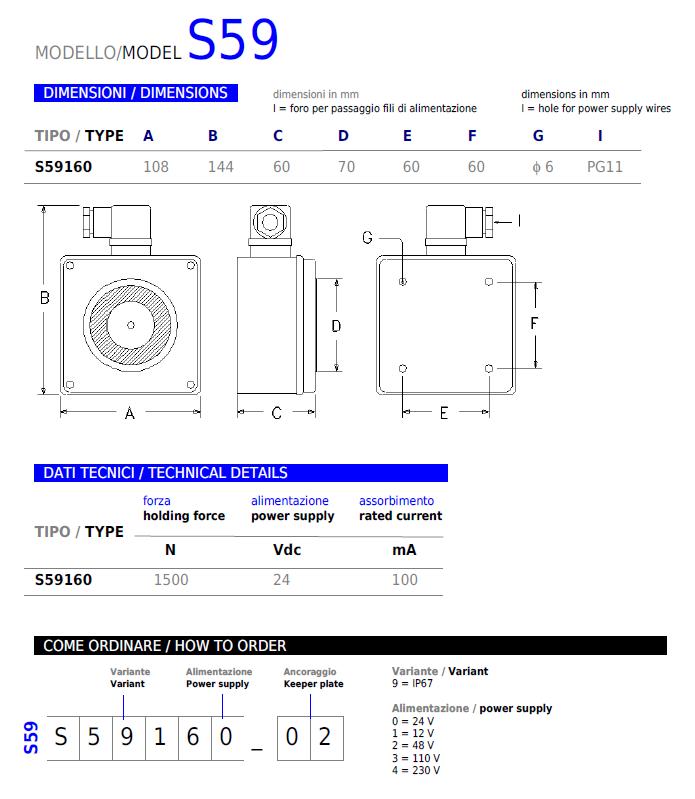 Click here to read the privacy policy.
* required.